Contact: 903-677-4430 | CainCenterInfo@athenstx.gov | Follow us on FACEBOOK INSTAGRAM NEWSLETTER
The Cain Center in Athens, TX is a recreation and aquatic center owned and managed by the City of Athens. Renovations began in May of 2020 and opened on October 25, 2021.
The Cain Center amenities include a fitness center, open fitness room for classes, pool, racquetball court, basketball court/multi-purpose room, meeting rooms, poolside party rooms, and lounge area. The pool has three areas: lap swimming lanes, a kids play area, and a therapy or aquatic workout area.
The center is surrounded by a beautiful 85-acre park that includes a disc golf course, softball fields, walking trails, tennis court, pickleball courts, and picnic pavilions.
Hours of Operation
Monday - Friday: 6am - 9pm
Saturday: 8am - 7pm
Sunday: CLOSED
**NOTE** The pool closes 30 minutes prior to the building closing.
ARE YOU READY? This Semi/Formal event is just around the corner for you and your friend/spouse or just come STAGG (by yourself). Forget about the stresses of everyday life and come enjoy a fun-filled evening with friends and colleagues while eating, dancing, and creating forever memories with our 360 Spin-a-Rella booth and photos by M & M Mirror photo booth. Call and reserve you space by purchasing a $25 (Single), $40 (Couple), $250 (Deluxe Table of
, $350 (Premium Table of
. $30 (per person at the door). Hope to see you there!
Recent News
CAIN CENTER UPDATES!
We strive daily to meet the needs of our members and customers. We can't do it without the support of the local businesses in Athens. We would first like to say, "THANK YOU," to the businesses that participated in our sponsorship program. (AEDC, UT Health Athens, Steve Grant Realty, Henderson County, First State Bank, Vera Bank, AISD, TVCC, and Biomerics.
A.V. SYSTEM -- We are nearing the end of the AV system installation. When completed, our members and customers will be able to take advantage of the following improvements: Multipurpose Hall will have cordless microphones, speakers, projector and screen; meeting rooms 1 and 2 will each have a cordless mic, speakers, and 55" TV/Display that can be used individually or separately; Civic Hall has 80" TV/Display, cordless mic and speakers for attendee's and will have live streaming capabilities; Fitness Center will have three 55" TV/Displays for Music, News, Sports, etc.
CHILDCARE PROGRAM -- Beginning November 2022, we will start the Childcare program for members only. The childcare room will be open twice per day from 9 am - 1 pm, and 5 pm - 9 pm. This program will be for member's children ages 2-10 and based on availability. There will be a 1-2 hour maximum for up to 10 children at a time.
NEW SOFTWARE PROGRAM -- We are currently in the process of training for the new ReClique software program that will make daily sign-ins run smoothly after staff is trained. This will minimize the congestion at the reception desk when entering the facility. Upon completion, members will be able to purchase memberships and classes on line, view rental availability, and have access to automatic renewal.
UPCOMING PROJECTS -- We are currently working on the following projects: upgrading the digital sign at the main entrance; the portable partition wall between meeting room 1 and 2; and Phase 1 of the acoustic panels in the Multipurpose Hall.
The Cain Center team works daily to create new and different programs for our members, potential members, the citizens of Athens and the surrounding area's enjoyment. Whether you participate in classes, fitness center, swimming pool, sports gym, or by renting one of our rooms, We appreciate your support. Thank you!
We are hiring! Click on the position below for more details: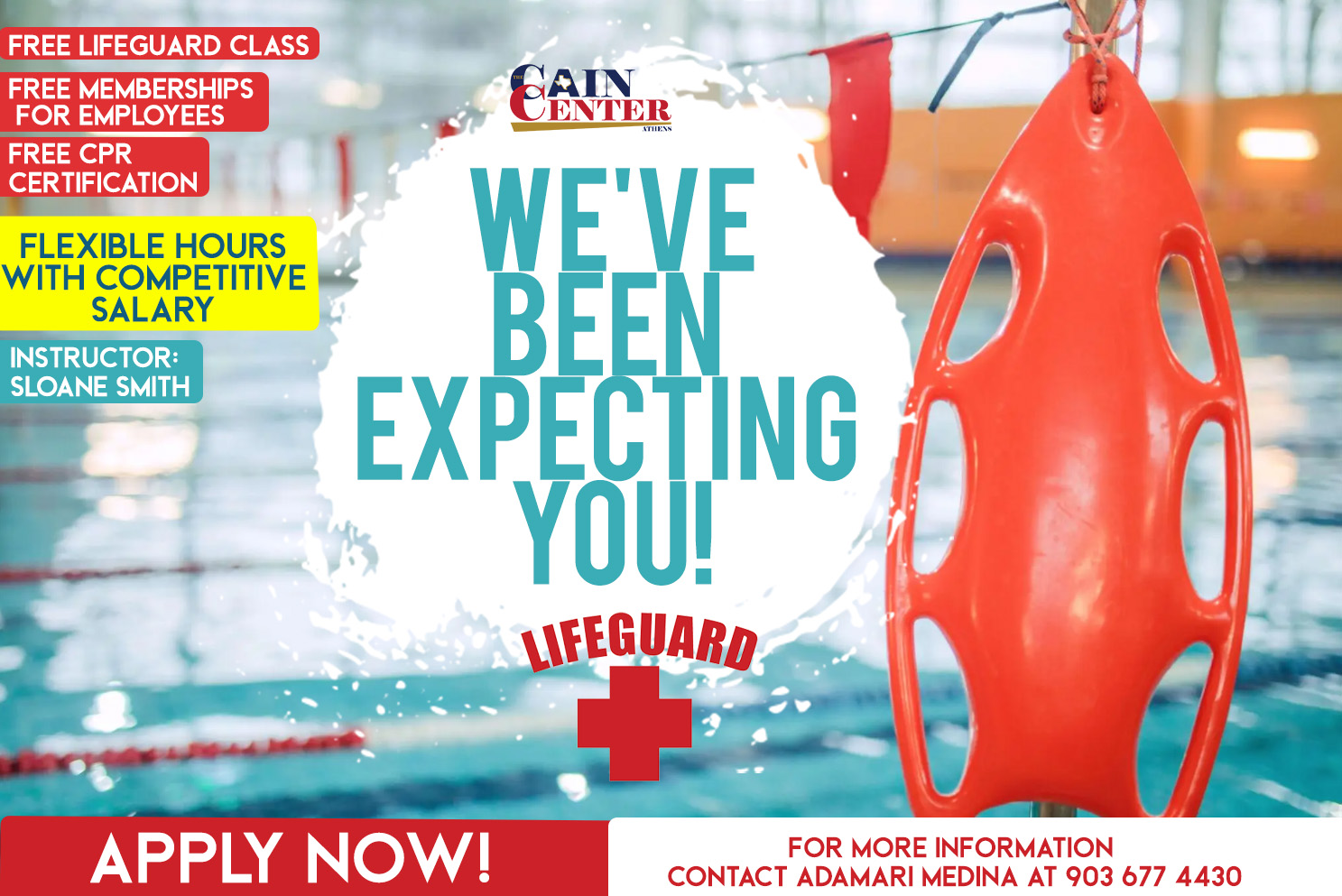 New Recreational activities now available! Check out the schedule
HERE
Gym Schedule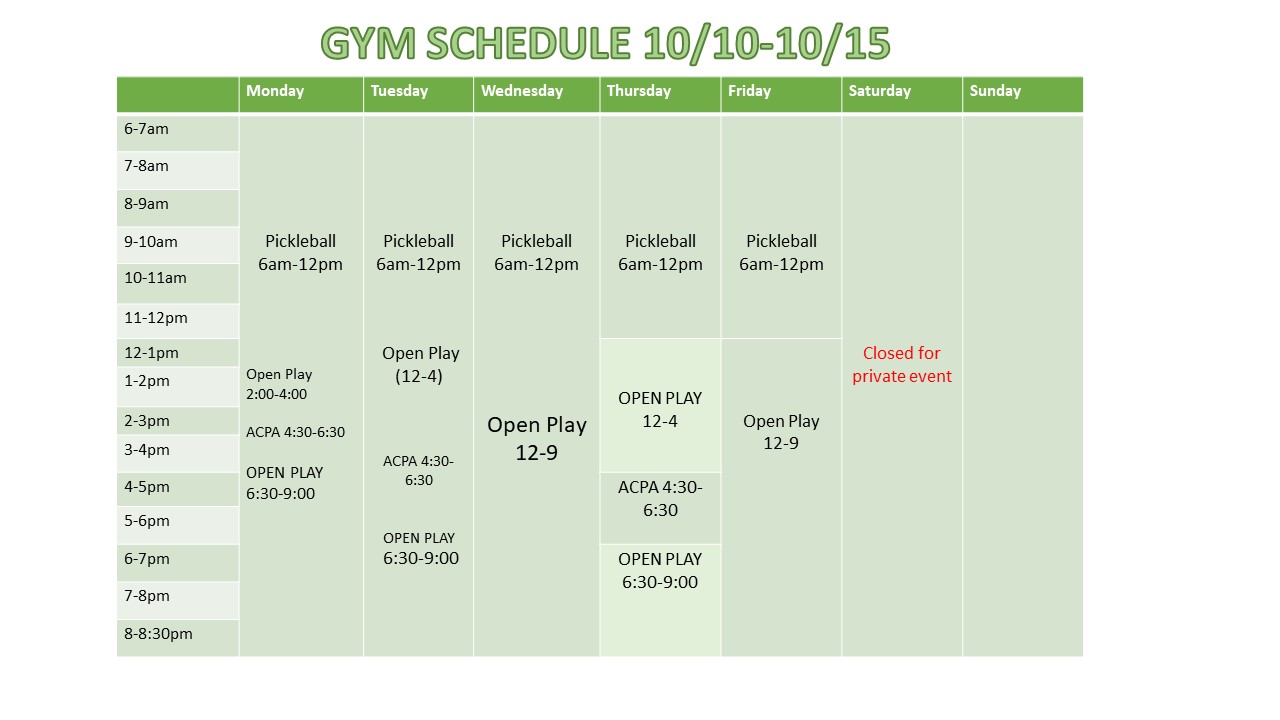 Pool Schedule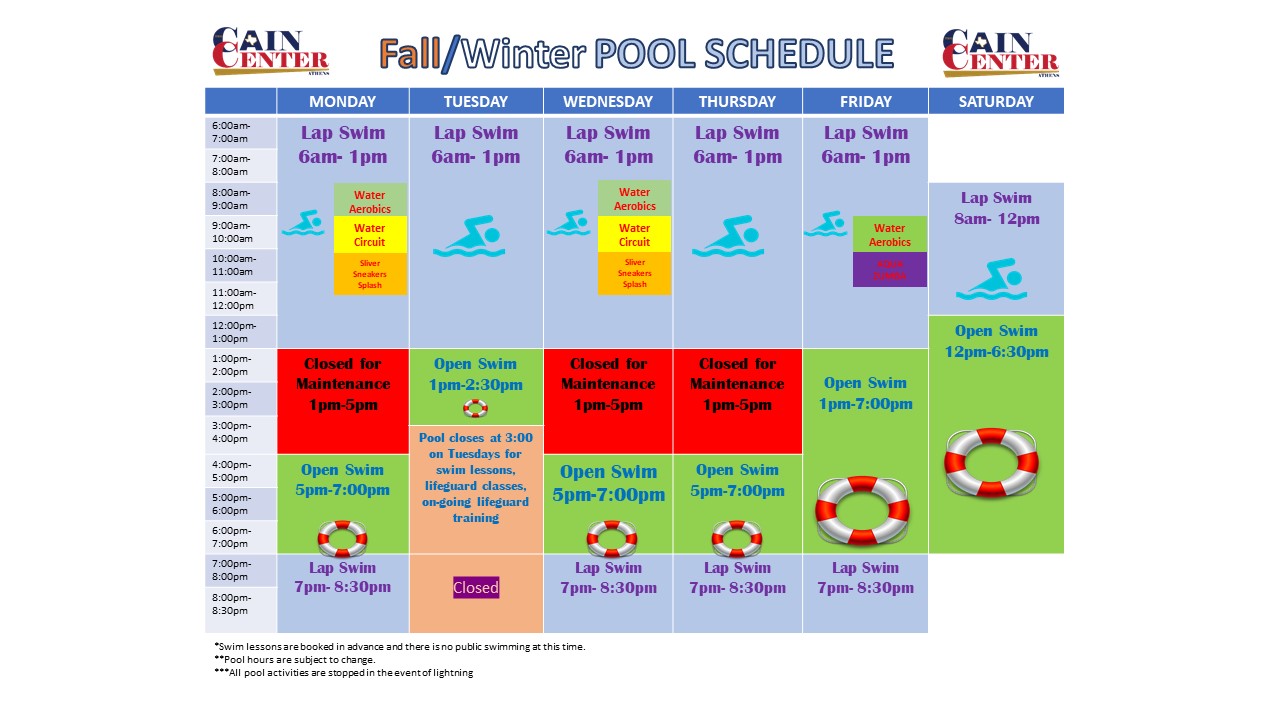 Membership Rates
Contact: 903-677-4430 | CainCenterInfo@athenstx.gov | Follow us on FACEBOOK INSTAGRAM NEWSLETTER